It costs a lot of money for a country to host an international sports event, such as the Olympic Games or football World Cup. Some people think that this is a waste of money, while others believe the opposite. 

Discuss both these views and give your own opinion. 

Give reasons for your answer and include any relevant examples from your own knowledge or experience.
Paraphrasing 
to cost a lot of money = to involve a substantial sum = to require a significant financial commitment = to demand considerable financial resources 

to host an international sports event = to stage prestigious international sporting events = to host major global sports tournaments = (noun) The hosting of major international sports events = to organize a worldwide sports competition 

a waste of money = to regard this as extravagant spending = this expenditure is misdirected = a misuse of resources = to constitute a financial drain
Brainstorming 
(Dạng câu hỏi discussion, yêu cầu các bạn cần thảo luận cả hai quan điểm trước khi đưa ra ý kiến cá nhân) 
Perspective 1: Hosting international sports events is a waste of money 
Financial burden: These events require substantial investment in infrastructure, security, and other preparations, putting a strain on the country's budget. 

Short-term benefits: The economic benefits often touted, such as increased tourism and business, may not outweigh the immediate costs. 

Potential white elephants: In some cases, the facilities built for these events can become underused or even obsolete after the event is over. 

Prioritizing other needs: The money spent on hosting could be better allocated to address pressing social or economic issues like education, healthcare, or poverty.
Perspective 2: Hosting international sports events is beneficial 
Economic stimulus: These events can stimulate the local economy through increased tourism, spending in local businesses, and job creation. 

Global visibility: Hosting a major sports event puts the country in the global spotlight, potentially leading to increased foreign investment and diplomatic opportunities. 

Infrastructure development: The need to upgrade or build new facilities can lead to long-term improvements in the country's infrastructure. 

Legacy and tourism boost: Well-planned events can leave a positive legacy in terms of improved sports facilities, parks, and recreational spaces that benefit the local population long after the event.
Sample
Hosting major international sports events like the Olympics or the FIFA World Cup comes with a significant financial commitment. While some argue that these expenses are extravagant, others believe that hosting such events brings a multitude of advantages. This essay will examine both perspectives before presenting my own viewpoint. 
Advocates contend that the costs associated with hosting these events are justified due to the potential economic benefits they bring. Organizing a major sports event draws in tourists, stimulates local businesses, creates job opportunities, and encourages infrastructure development. Moreover, it showcases the host country's culture, heritage, and capabilities to the world, leading to global recognition. Consequently, these events can act as drivers for economic growth, leaving a lasting positive impact on the host nation. 
Detractors argue that the resources earmarked for hosting these events could be better utilized for critical social issues like education, healthcare, and poverty alleviation. They posit that the short-term financial gains may not outweigh the long-term costs, as the infrastructure built for these events may become underused or unsustainable after the event concludes. Critics also assert that the resources invested could be redirected towards addressing more immediate and essential needs of the populace. 
In conclusion, I believe that hosting major international sports events can be a beneficial investment, provided there is careful planning and consideration of long-term benefits. While it is imperative to ensure that funds are judiciously allocated and that the event leaves a lasting legacy, the potential economic, cultural, and social benefits should not be disregarded.
Gợi ý sách liên quan
Giải đề thi thật IELTS Writing Task 1 & 2
Nếu bạn muốn tham khảo các bài mẫu IELTS Writing bám sát với đề thi thật nhất, thuộc những chủ đề thường được hỏi trong IELTS Writing Task 2, sở hữu cuốn này chính là sự lựa chọn tuyệt vời.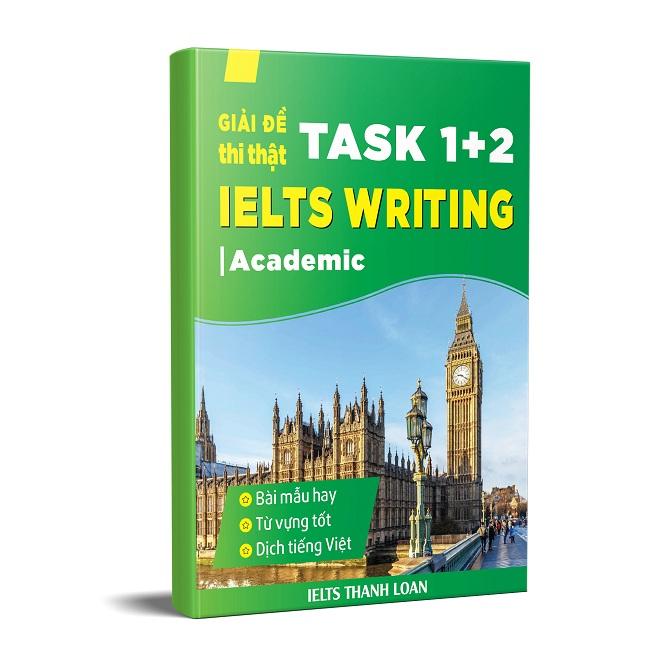 New words
Commitment

  (n): sự tận tâm, sự cam kết


Giải thích: a

promise

or

firm

decision

to do something


Ví dụ: Players must make a commitment to

play

for a

full

season

.
Extravagant

  (adj): đắt đỏ, tốn tiền


Giải thích:

spending

too much

money

, or using too much of something


Ví dụ: He

rarely

used

taxis

, which he

regarded

as extravagant.
Stimulate

  (v): kích thích


Giải thích: to

encourage

something to

grow

,

developer

, or

become

active


Ví dụ: The

government

plans

to

cut

taxes

in

order to

stimulate the

economy

.
Leave a positive impact on

(v): có ảnh hưởng tích cực lên


Giải thích:

create a beneficial or favorable effect on something or someone.


Ví dụ: Volunteering at the local orphanage can leave a positive impact on the lives of the children, providing them with support and encouragement.
Earmark

  (v): đánh dấu riêng
Giải thích: to keep or intend something for a particular purpose


Ví dụ: Five billion dollars of this year's budget is already earmarked for hospital improvements.
Alleviation

  (n): sự làm dịu, sự giảm đi
Giải thích: the act of making something bad such as pain or problems less severe


Ví dụ: The government put emphasis on the alleviation of poverty.
Posit

  (v): cho là
Giải thích: to suggest something as a basic fact or principle from which a further idea is formed or developed


Ví dụ: If we posit that wage rises cause inflation, it follows that we should try to minimize them.
Outweigh

  (v): tốt hơn, vượt hơn
Giải thích: to be greater or more important than something else


Ví dụ: The benefits of this treatment far outweigh any risks.
Underused

  (adj): được sử dụng ít
Giải thích: not used as much as it could or should be


Ví dụ: Many of these resources are sadly underused in the classroom.
Judiciously

  (adv): sáng suốt, khôn ngoan
Giải thích: in a way that has or shows reason and good judgment in making decisions


Ví dụ: This report shows we acted judiciously with taxpayer money.
Translating into Vietnamese
Việc tổ chức các sự kiện thể thao quốc tế lớn như Thế vận hội hay FIFA World Cup đi kèm với cam kết tài chính đáng kể. Trong khi một số người cho rằng những chi phí này là quá xa xỉ thì những người khác lại tin rằng việc tổ chức những sự kiện như vậy mang lại vô số lợi ích. Bài viết này sẽ xem xét cả hai quan điểm trước khi trình bày quan điểm của riêng tôi.
Những người ủng hộ cho rằng chi phí liên quan đến việc tổ chức những sự kiện này là hợp lý do những lợi ích kinh tế tiềm tàng mà chúng mang lại. Tổ chức một sự kiện thể thao lớn thu hút khách du lịch, kích thích kinh doanh địa phương, tạo cơ hội việc làm và khuyến khích phát triển cơ sở hạ tầng. Hơn nữa, nó còn giới thiệu văn hóa, di sản và năng lực của nước chủ nhà với thế giới, dẫn đến sự công nhận toàn cầu. Do đó, những sự kiện này có thể đóng vai trò là động lực thúc đẩy tăng trưởng kinh tế, để lại tác động tích cực lâu dài cho quốc gia sở tại.
Những người phản đối cho rằng các nguồn lực dành cho việc tổ chức những sự kiện này có thể được sử dụng tốt hơn cho các vấn đề xã hội quan trọng như giáo dục, y tế và xóa đói giảm nghèo. Họ cho rằng lợi ích tài chính ngắn hạn có thể không lớn hơn chi phí dài hạn vì cơ sở hạ tầng được xây dựng cho những sự kiện này có thể không được sử dụng đúng mức hoặc không bền vững sau khi sự kiện kết thúc. Các nhà phê bình cũng khẳng định rằng các nguồn lực được đầu tư có thể được chuyển hướng sang giải quyết các nhu cầu thiết yếu và quan trọng hơn của người dân.
Tóm lại, tôi tin rằng việc tổ chức các sự kiện thể thao quốc tế lớn có thể là một khoản đầu tư có lợi, miễn là có kế hoạch cẩn thận và cân nhắc lợi ích lâu dài. Mặc dù bắt buộc phải đảm bảo rằng kinh phí được phân bổ hợp lý và sự kiện này để lại di sản lâu dài nhưng không nên bỏ qua các lợi ích kinh tế, văn hóa và xã hội tiềm năng.
IELTS Thanh Loan – Trung tâm luyện thi IELTS cung cấp các khóa học IELTS Online, sách IELTS:
ĐT: 0974 824 724
Email: [email protected]
Địa chỉ: S103 Vinhomes Smart City, Tây Mỗ, Nam Từ Liêm, Hà Nội